Line Scan Photographs at Jidai Matsuri, Kyoto
I used a one-off line scan camera to capture almost 50,000 vertical lines in each image, like the one above, as the parade passed in front of the lens. The resulting photographs show a motionless background while the paraders scanned themselves as they walked towards the Heian Shrine.
The photo above (20151022_14_45_52) recreates part of Toyotomi Hideyoshi's Procession in September 1596 to introduce his son, Hideyori, to the emperor. More about the history behind the Jidai Matsuri.
In this artwork, the exposure is streamed as a one-dimensional vertical line, a smear, over 20 seconds creating a photograph of two dimensions — height and time. From the original scene no width can be captured so when I start the stream I don't know what will be photographed since I have to begin well before the action does leaving a latent question (what will this look like if I press the button now?) and a recorded answer (this is what happened).
We have two types of Kyoto. One Kyoto contains the traditions performed to invoke nostalgia and sites created to look antique. The other Kyoto we travel past every day on the way to work or school where the contemporary exists as a patch on the ancient, often only locals will notice this assemblage. This is the living historical Kyoto. The Jidai Matsuri most likely fits in the first kind of Kyoto, but it isn't an uncompromising recreation of a period performed by actors.  Moreover these are citizens of Kyoto chosen annually to represent their neighbourhood in the festival. Some costumes include modern shoes and here the historical image is seen in a the tired look of someone who walked two kilometers holding a giant parasol. And because the festival is routed through busy streets, they wait for traffic lights. The photograph I created here was taken during a red light so the horse was halted, its wrangler slowly paced the horse back and forth in front of the narrow slit of the camera.
この作品では、一次元の垂直のラインを20秒以上捉え続け、二次元の写真(つまり、ここにおいては高さと時間)を創り出している。撮影において元のシーンからは横幅は捉えられない。潜在的な問いかけ(=今、シャッターボタンを押せばどのようなものがおさまるのか?)や記録された答え(=これが起こった出来事だ)という事項からはかけ離れ、随分前から撮り始めなければならないため、その時点ではどのように写し出されるかは予想できない。
京都には2つの面がある。一つは古い街並みや郷愁を想い起こさせる伝統的な京都。そしてもう一つは、おそらく地元の人たちしか気づいていない通勤や通学途中の日々で見ている歴史的風景の中に存在する現代的な京都。これがまさに今の歴史的京都である。時代祭は一見、前者に一致するように思えるが、俳優たちによる時代の再現ではない。その上、ここに参加する人たちは、毎年各地域から担当となった市民である。時には現代の靴を履き、また2km以上の距離を大きな傘を持ち歩き、疲れた表情が見られる。そして繁華街を行進するため信号機を待たなければならない。この写真では、ちょうど赤信号になり馬が一旦停止し、スキャンするカメラの前を馬がゆっくりと前後に動くシーンを捉えたものである。
What is the Jidai Matsuri?
The era of Heian-kyo started when the capital was abruptly moved to Kyoto over 1200 years ago. Then just about 150 years ago the capital moved away concluding a period of over a millennium of Kyoto's central significance. The Jidai Matsuri is a procession created to commemorate this era of Kyoto's history. It ends slightly past the giant orange toori, or gate inside Heian Jingu, the shrine that was built as a smaller model of the original Emperor's palace.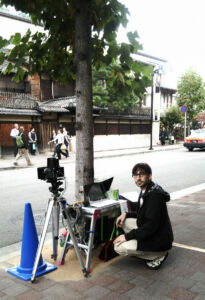 1200年以上前、首都が思いもよらず京都に移された時、平安時代が始まった。そして、150年少し前の奠都まで1000年以上もの間、京都は首都としての重要な役割を果たす。時代祭は、京都の歴史のこの時代を記念するために作られた行列である。行列は巨大な橙色の鳥居を少し越えたあたりで終了する。平安神宮は平安遷都1100年を記念して平安京創始の桓武天皇を御祭神として創建された。
京都にとってこのことは重要な事項である。伝統や歴史がどのように京都の将来と融合していくのか?それは偉大な古都の創造というシミュレーションなるのか、それとも歴史よりも貢献を称賛する現代の京都となるのか?